ALBERT HOLDER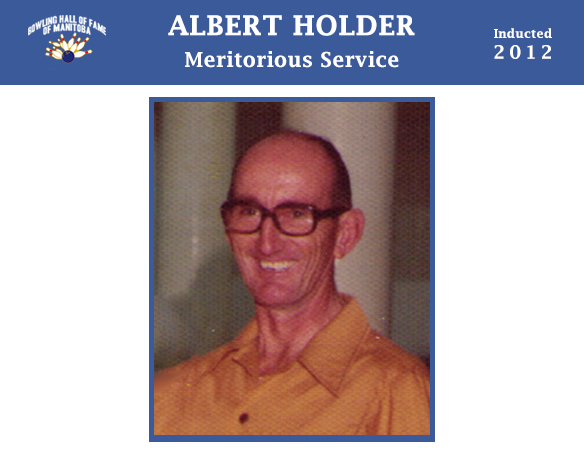 Bowler 1951 – Present
Started Bowling at age 19 and still continues today at age 80. Albert used to set pins back in the day before the automatic pin-setters came into effect in the 1960's.
In 1968, he became a board member of the Brandon Tenpin Bowling Association and remained on the board until 2004. During these 37 years, Albert served on the board in various positions from director to Vice-President.
Albert assisted in the hosting of countless tournaments during this time:
– Co-Chaired the Tournament of Champions for
over 20 years;
– All BTBA Tournaments;
– Even kept scores each weekend during the
annual March long Tournament for several years, before automatic scorekeeping was installed at the lanes.
-He not only assisted in the hosting of these tournaments, but participated in every local tournament the BTBA held.
Became a BTBA Life Member in 1986.
Albert participated in the following leagues:
– Monday Men's Mercantile League – 35 years
– Wednesday Nite Men's League – 20 years
– Sokol Mixed League – 20 years
– Senior Tuesday Morning League (2009- present)
Albert served on the Executive of every league that he participated in during his 60 years of bowling.
Tournament & League Achievements
– League of Nations Champs (1990/1997/2003/2008)
– Wheat City Champs (2001)
– Men's Mercantile Champs (1991-92)
– Wednesday Nite Men's Champs (1988)
-Sokol Mixed Champs (1984)
He earned a 163 pins over average award and had a career high series of 670.
Albert's biggest fan & supporter was his mother, who attended many of his leagues and tournaments to cheer him on.
Albert was inducted into the ABC/Brandon
Tenpin Hall of Fame on November 1, 2000.