Donna Wass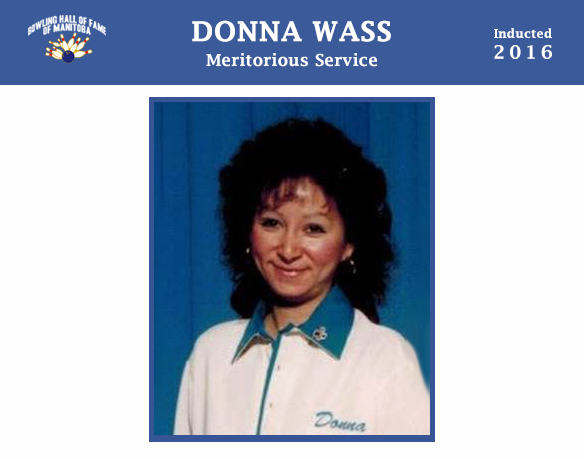 Donna started bowling in her mid-twenties during the 1980's. She loved the sport and contributing to its growth & development, while serving at both the league and association level.
Leagues
1990's – 2006 Mixed 4's Chateau
1995-98 Greater Winnipeg Classic
2003-07 Treasurer
2007-09 Treasurer : stayed on as Treasurer when she wasn't able to bowl.
Associations
MANITOBA CLASSIC BOWLERS ASSOCIATION
Member since the early 1990's
WINNIPEG WOMEN'S BOWLING ASSOCIATION
1991 – 94 Secretary / Treasurer
1994 – 96 Director
1996 – 97 Member of Meritous
2002 – 04 Treasurer
Resigned from duties when CTF Board restructuring was implemented.
1990's-2000 Initiated the Mary Johnstone Ladies Tournament
MANITOBA OPEN
1998-2003 Co-Tournament Director with Wayne Johnstone.
Achievements
NATIONAL
1989 CTF National Championship
1990 National Team Trials
1992 National Team Trials
1996 National Team Trials
LOCAL / PROVINCIAL TOURNAMENT TITLES
1994 Karol Routliffe 4th
1995 Cameo Classic 2nd
2001-02 WWBA Annual – Team Event 1st
2003 Birthstone Classic 5th
2004 Cameo Classic 3rd
2004 WWBA 200 Club 1st
2004 WWBA Annual – Singles 3rd
– Doubles 2nd
– Team 1st
– All-Events 1st
Recognition
2004 Sport Manitoba Long-Term Volunteer Service Award
Career High Scores
High Average – 199
(2005-06) Greater Winnipeg Classic league