Patricia Kelly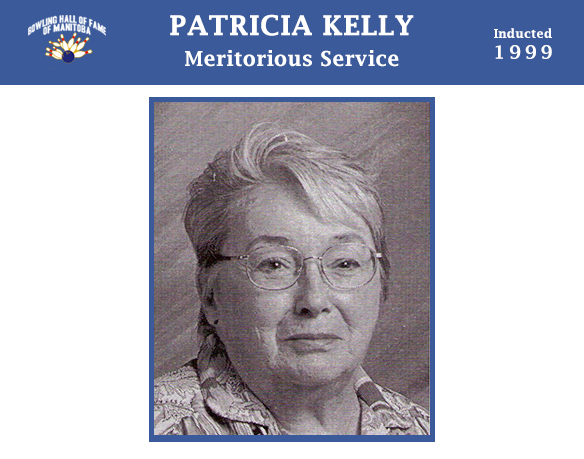 Patricia began tenpin bowling in the early 1970's at Saratoga Lanes, where she served as league Secretary for two years until Saratoga changed to 5-Pin. She then joined the Buffalo Recreation League and bowled both at Northgate Bowl and Empress Lanes. Upon the closure of Northgate Bowl, Pat joined another league at Chateau Lanes and continued at Empress Lanes.
Patricia became involved with the Manitoba Provincial Women's Bowling Association in 1980 due to the urging and encouragement of her team-mates Karol Routliffe and Gerri McLean. Pat moved up the ranks quickly being elected 2nd Vice President in 1982,
1st Vice President in 1983 and as President in 1986, a position that she still holds today.
During her 20 years in service on the Manitoba Provincial Women's Bowling Association Board, Pat was involved in the hosting of countless tournaments and has chaired or served on the following committees:
– Nominating
– Legislation
– Publicity
– Budget
– Audit
– Policy
– Social
– Bowler of the Year
In 1987, Patricia initiated and helped establish, with the assistance of Adrianne Bride and Iris Sobotkiewicz, the "Karol Routliffe Memorial Tournament" in memory of her dear friend and teammate. Pat also recognized that there was limited opportunities for women league bowlers and established a "170 & Under Tournament" in 1997, which is held annually 2-3 times a year.
Patricia participated in several Women's International Bowling Congress Annual Tournaments and attended many W.I.B.C. Annual Conventions as a Delegate for M.P.W.B.A.
The Seniors Tournament, which is jointly conducted by the M.P.W.B.A., M.P.T.B.A. and funded by the Manitoba Tenpin Federation, qualifies 4 men and 4 women to participate in the A.B.C.-W.I.B.C. Seniors Tournament held annually in the United States. Pat has contributed greatly to the success of this program through her tireless efforts in arranging the travel, accommodation, registration and uniforms for these bowlers.
On many occasions, Patricia also traveled with the Provincial Senior contingent as team manager to handle all the arrangements, concerns and problems that arose throughout the tournament.
With the help of her board members, the M.P.W.B.A. has diligently strived to improve and provide more opportunities in bowling for the women bowlers of Manitoba. Under Pat's leadership and direction the M.P.W.B.A. has increased from hosting just three tournaments a year to eight.
Pat was also active in the promotion and development of our sport, spearheading the provision of grassroots coaching for many league bowlers who were looking to improve their game.
Patricia has been the M.P.W.B.A. representative on the Manitoba Tenpin Federation Board from 1982 to present. Pat was elected President of M.T.F. in May, 1992, another position which she still holds today. In addition to being the Bingo coordinator for the past seven years, Pat has also served on the following M.T.F. committees:
– Personnel
– Budget & Finance
– High Performance Development
– Marketing
– Policy & By-Law
– Jamboree
– Grant
– Pan Am Hosting
– Harassment & Abuse
It is impossible to fully account for all the various duties and contributions that Patricia has made towards the betterment of tenpin bowling throughout her many years of dedicated service. However, it is evident that the Manitoba tenpin bowling community has benefited greatly due to Patricia's involvement and selfless efforts in enhancing the quality of the bowling experience for all our bowlers.